The 2021 Subaru Love Promise Customer and Community Commitment Award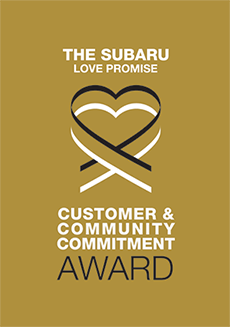 We've been nationally recognized for our dedication to our customers, our community, and the Subaru Love Promise.
We're honored to receive the 2021 Subaru Love Promise Customer and Community Commitment Award. This award nationally recognizes elite Subaru retailers who provide an exceptional customer experience at every interaction with Subaru. These retailers have also demonstrated an outstanding commitment to supporting passions and causes in their local communities in important areas such as the environment, community, health, education, and pets.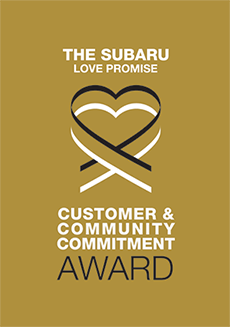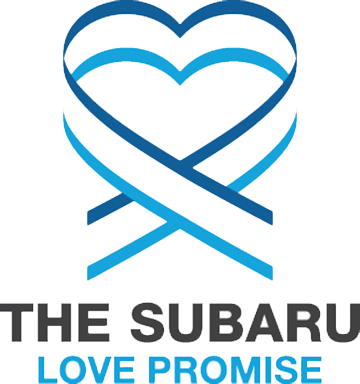 What is the Subaru Love Promise?
Subaru and our retailers believe in making the world a better place and the Subaru Love Promise is our vision of respecting all people. This is our commitment to show love and respect to our customers and to work to make a positive impact in the world.
How is Rogers Subaru dedicated locally to the Love Promise?
Rogers Subaru is committed to giving back to the communities that have given so much to us. Sharing the Love goes beyond our commitment of outstanding service to our customers. As a local, family owned retailer we feel it is our obligation to Share the Love, through the partnerships with great charitable organizations of the Quad-Cities and surrounding areas, and the dedication of Rogers Subaru employees. Giving back is easy, and its the right thing to do. Leaving a positive mark in the lives of others in our community, is our Love Promise.
Lewis-Clark Animal Shelter, Helping Hands Animal Rescue
Perfect Attendance Spells Success on the Palouse
Lewis Clark Valley Boys and Girls Club, LC Valley Special Olympics
Idaho Food Bank, Jackson Baldwin Foundation, Tinas Hope for the Cure
Love Promise Stories from Rogers Subaru
Subaru and Rogers Subaru believe in making a positive impact on the communities in which we live and work. We uphold that belief through our Love Promise Community Commitment. Every month, we select inspiring stories from customers and partners from around our area who strive to support our collective commitment and feature them here
Continued service well after the sale - Julie F
This is a continuing stroy from my original letter I sent about my experience with Rogers Subaru in Lewiston Idaho, and with one of your salesmen at the dealership. We purchased a 2021 Subaru and were very surprised when the salesman, Brian Adams, made us homemade chocolate chip cookies from his grandmothers recipe, which by the way, were the most delicious chocolate chip cookies we have ever ate. The purchase of this Subaru was a few months ago. We came back today to talk to Brian about a scratch on our car-he knew we were coming-guess you the reader can probably continue the story by yourself. When we walked in guess what was waiting for us? Warm, homemade chocolate chip cookies!!! Talk about continuing service. This great service continues well after you purchase. Unbelievable. What dealership, whether it Subaru or any other continue this kind of service with the customers? Do you think we tell others? YOU BET WE DO!!! This dealership seems to us to be so much more than a car dealership, but more like a family. Go in to talk about your vehicle, you visit like old friends. This Dealership from the top boss down, everyone is so friendly and helpful. Brian and all the employees need a commendation from the Subaru Manufacturer and recognition from you for being an outstanding "family" dealership. Be proud of this group of super employees-they are beyond what is expected, and beyond the norm. Thank you for having such a great group of employees selling your vehicles-We love our Subaru too, its a great vehicle. Julie Fricke
---
Not All Heroes' Wear Capes - He saved my life! - Heather R
He saved my life! What would you say if I told you that your life could depend on what car salesman you go to? So much more goes into buying a car than just picking out the most flashy model. I'm not someone who thinks about anything more than the color and features when picking out a car. THANKFULLY I bought my car from Justin Davenport at Rogers Subaru in Lewiston, Idaho. He knows I have a daughter and made sure that I bypassed cars with low safety ratings. He found me a car perfect for my daughter and I. Several months later I got hit by a speeding truck hauling 5 tons of hay. My car was picked up, spun, dragged 500 feet and ripped open going 65 mph. Thankfully I was unharmed. If Justin had let me buy the first car I looked at I would have been DEAD. Make sure you buy your cars from someone who cares. Your life could depend on it. MINE DID! I highly recommend seeing Justin Davenport for all your car purchases.
---
Rogers Subaru helps Refill Area Food Banks - Corey B
In November 2020 Rogers Subaru was proud to join the Annual Hometown Business Food Drive. A service special was set up offering discounted services to customers willing to donate canned good and other non-perishable items. Customers and staff alike helped gather food items to be donated to 3 local food banks, Community Action Partnership, The Asotin County Food Bank, and the Palouse Cares program. This is the 5th year of the Community Business Food Drive and Rogers Subaru's first year joining in the effort. It was a record smashing performance. All told 9,542 lbs. of food and over $1,000 in cash donations were collected by dozens of community businesses. That represents almost 7000 lbs. more food donations than this drive has ever previously produced. Although Rogers Subaru was not the top donation getter, the bar has been set and being #1 is our goal for the 6th annual drive. A huge thank you goes out to our generous customers and staff who were involved. In difficult times such as these, community support and a true common goal of the local businesses to help, is more important than ever. Rogers Subaru was honored to be involved and will continue to be for years to come.
---
Thankful Paws - Becky S
When you adopt from a shelter, you are truly saving a life! Many of the animals that come into the shelter have not had a fair chance at life, and they deserve just that. Some animals are unable to be cared for by their owners and need a new home. Every animal available for adoption at the Lewis Clark Animal Shelter has been vaccinated, spay/neutered, and microchipped. This October 2020 the Lewis Clark Animal Shelter was fortunate to find loving homes for 10 dogs, 51 household cats and 26 barn buddies-working cats. Through everything that our community has been going through over this year, adopters continue to open their hearts and make a difference in the lives of our shelter dogs and cats. A Labrador/Shephard Mix named Chewy was one of the shelter animals adopted in October. Chewy was first adopted through the shelter in January 2018. Unfortunately, he came back in as a stray this year. Sadly, his owners could not afford to take care of him. Chewy went through the usual 7-day legal hold period and then the shelter staff assessed him. During his aggression assessment staff discovered that he had extreme food aggression. To work with Chewy, staff members participated in a food behavior modification plan twice a day for Chewy for roughly a month. He was a quick learner and aimed to please. Chewy quickly excelled in the program and after staff members felt confident, he went up for adoption. A few days later, a young woman and her friend came out and met Chewy. She participated in doing his food modification plan and was immediately struck by his willingness to learn and how smart he was. After talking it over, she adopted Chewy! Chewy found a loving home with someone who was able and willing to continually work with the issues he presented. The LCAS staff continue care and provide the best care for the animals that come through the shelter doors. Every animal deserves a loving furever home. We are grateful for the ongoing support shown through Roger's Subaru and Subaru's love for animal rescues. October Pet of Week Promotions provided by Roger's Subaru, the adoptable paws at the shelter were spotlighted and adopted! How exciting for those animals and appreciate all the support from our local Rogers Subaru family! The Lewis Clark Animal Shelter's mission is to promote the humane treatment of animals, prevent cruelty to animals and provide education to enhance the human-animal bond and to end pet over-population through an aggressive spay/neuter campaign. www.lcshelter.org All for the paws ~ Becky Sturmer, Development Director Lewis Clark Animal Shelter giving@lcshelter.org
---
Rogers Subaru cares about CTE - RYAN R
Rogers Subaru is proud to sponsor the Lewis-Clark State College Schweitzer Career Technical Education Center, supporting continuing education of graduating high school seniors and adults. Rogers Subaru is donating $50,000 as well as supplies which include training aides, vehicles, tools, technology, curriculum, and courses, as well as enabling students to work directly with our dealership through internships. By working hand in hand with the automotive center, we are helping to produce highly trained individuals to work in the automotive and trade industries. The Service and Parts management staff at Rogers Subaru has also become involved with the board of education at Lewis Clark State College as well as regional high school boards, in order to help guide curriculum, to better prepare students for the work experience they will need when entering the automotive field. Rogers Subaru is also proud to announce they have established a $2000 scholarship program to the Lewis-Clark State Auto Mechanics Technology and Collision Repair programs. Rogers Subaru believes in higher education and giving back to the communities we serve. "If we can help the students grow in their degree, everyone in our community benefits," said Ryan Rogers, owner Rogers Subaru. Rogers Subaru awards these Automotive Technology scholarships annually, which were established to support local high school students entering college, with plans to pursue a certification or degree in auto mechanics technology or collision repair technology at Lewis-Clark State College. Last week, representatives from Rogers Subaru were able to attend the ribbon cutting ceremony for the LCSC Schweitzer CTE Center. We are excited about the opportunities for students to learn about various high-tech vehicles in this new state of the art training facility.
---
My Subaru Goes With Me Everywhere - Tara D
From the canola fields near Cottonwood to the snowy roads and mountains of Bovill, Idaho, my Subaru Crosstrek takes me wherever I want to go!!
---
KORI'S KOZY BLANKET DRIVE - Tara D
I thought we could end the 2019 year by sharing my story about a blanket drive I have done for four years now. The blanket drive is in honor of my late daughter, Kori Day. She lost her battle with a kidney disease in 2015. Kori was always cold and especially on the days of dialysis she was exceptionally cold. Kori dreamed always of helping others and the blanket drive was her idea, only she didn't get to have it. My family and I decided we would do it for her. Rogers Subaru has helped me with my drive the last two years. The customers come to know its that time of year and have been so giving. In one of my featured pictures is a customer named Linda. Linda makes us children's blankets, 20 of them!! The blankets go to local places such as like nursing homes, a homeless warming shelter, nursery and pediatric departments of our local hospital and we keep some on hand for those in need throughout the year. My sister and nephew who live in Postfalls, Idaho, collect blankets also. They distribute to a local rehabilitation facility each year. They had such an amazing response this year that they extended their giving of the blankets to the Postfalls Police Department. The officers agreed to keep blankets in the trunks of their squad cars and give to those in need and as they see fit. This year we received about 80 blankets here locally and we could not be happier! Kori is smiling down from heaven for sure! Nothing makes a person feel more warm inside than wrapping someone in a cozy blanket from Kori. Thank you to Rogers Subaru for helping my family and I collect the donated blankets and to our generous customers, family and friends. We appreciate each and every one of you!
---
Finding Fur-Ever Homes by Becky S - Tara D
When you adopt from a shelter, you are truly saving a life! Many of the animals that come in to the shelter have not had a fair chance at life, and they deserve just that. Every animal available for adoption at the Lewis Clark Animal Shelter has been vaccinated, spay/neutered, and micro-chipped. October was an incredible month for LCAS. The incredible support received during October included several adoption events and LCAS was fortunate to have Roger's Subaru provide new adoption toys to celebrate the adoptable paws new beginnings. Adopting a homeless pet is truly a selfless act that gives a pet the chance to enjoy a happy, fulfilling life. They will in turn reward you with their loyalty, companionship and unconditional paw love. The amazing addition of new pet toys for our adoption families continues to be a highlight!Every animal deserves a place to call home. We are proud to report amazing October adoption numbers! A total of 29 dogs were adopted to new fur-ever homes. Through the support of LCAS foster volunteers the average of kittens saved has increased significantly in 2019. As kitten season continued at a high steady pace since spring, we had a high adoption count in October. October cat adoption numbers totaled 83 which included 31 from our foster program, plus the shelter had an additional 7 Barn Buddy adoptions. The LCAS staff and volunteers take pride in the care they provide to every shelter animal with the love and support as if each animal were their very own. LCAS is grateful over 100 animals in October are off the streets and into loving homes they deserve. Together we can save more lives and through the support of the October Pet of Week Promotions provided by Roger's Subaru, the adoptable paws at the shelter were spotlighted and adopted within days! We are grateful for the ongoing support shown through Roger's Subaru and Subaru's love for animal rescues. The animals that are rescued deserve to be adopted and find a loving fur-ever home. The Lewis Clark Animal Shelter's mission is to promote the humane treatment of animals, prevent cruelty to animals and provide education to enhance the human-animal bond and to end pet over-population through an aggressive spay/neuter campaign.
---
A SAINT IN THE WILDLANDS - Tara D
The Clearwater Potlatch Timber Protection Association (CPTPA) has been protecting nearly 1 million acres of forestland owned by various federal agencies, state agencies, and private landowners for over 110 years. Their goal since 1905 has been to detect wildfires and extinguish them quickly to protect our precious natural resources here in central Idaho. In addition to rapid response in the case of a wildfire, the fire crews from CPTPA also perform other important work including performing prescribed burns on recently harvested acres on PotlatchDeltic and State of Idaho Trust Lands (managed by Idaho Depart of Lands). These burns reduce fire risk by removing logging slash and also prepare the area for other crews to come in and plant new trees which maintain our sustainable, healthy working forests. Recently, the guys and gals from CPTPA were out completing prescribed burning activity within the Headquarters Unit. Throughout the summer of 2018, Zoanne Anderson (a two time Subaru owner) has been helping out by running lunches and dinners out to the fireline when there have been wildfires. Generally, they have a pickup available for her to drive but during the WhitePine prescribed Burn Operation of October 12-15, all of their vehicles were being used and that is where her Subi (and the love) comes in. No provided vehicle = no problem when you own a Subaru Crosstrek! Especially when you own the RMX version created by the fine staff at Rogers Subaru! In addition to all the great features of the Crosstrek, her RMX sports a 2-inch lift, extra suspension, off-highway tires and a skid plate that takes her any place she wants to go.....even to the fireline to feed hungry wildland firefighters. For four days, loaded to the gills with Mexican food, pizza or burgers, she easily made her way off the highway and right up on to the fireline to feed those hungry and tired firefighters. To say they were appreciative would be an understatement! Wildland firefighting is a hot, dirty and dangerous job. While you have the "old heads" (such as Zoanne's husband who is a Fire Warden of the Headquarters Unit) that provide the knowledge and direction, most of the crew members are young people just finding their way in life. Their hard work and dedication to this profession is impressive. Zoanne states "having the opportunity to take care of our fire crews who are the ones to run in to help when everyone else is running out is an honor. I'm extremely pleased to be able to share that honor with Rogers Subaru!" Thanks to Zoanne Anderson for her dedication to the firefighters and as a loyal customer to Rogers Subaru!
---
So many mountains, so little time! - Sarah K
Adventures in the Tetons, WY, with my new Outback and Aliner camper. Well-equipped to explore western landscapes.
---