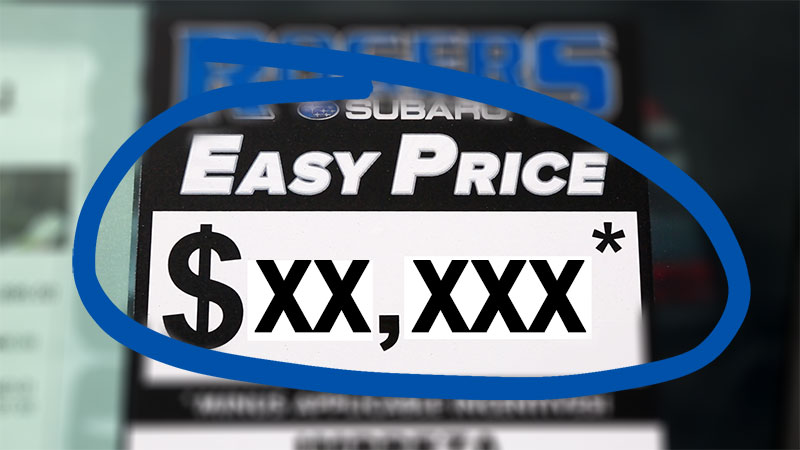 Get Competitive Pricing with Rogers Subaru's Easy Pricing
When you buy a new Subaru vehicle you want to make sure you're getting a good deal. Shopping at Rogers Subaru is nice because we make sure to discount our new Subaru vehicles to the Rogers Subaru Easy price. You'll be able to clearly see fair and transparent prices that take out the complication, confusion, and frustration of buying a car. You won't have to continuously go back and forth between a salesperson, the internet or prices listed on vehicles to understand how much you'll pay for the car you're considering. Search New Subaru
Look for the Easy Price
We want to make every aspect of your car buying experience as seamless and enjoyable as it should be. That's why we've made it as simple as possible. With our Easy Price you'll be able to compare prices of vehicles on our showroom floor with prices that you may have gotten from other dealerships around Lewiston, ID.
Each new car for sale at Rogers Subaru is displayed with the Rogers Easy Price. Whether you're buying a new Forester or Ascent, you'll find Roger's Easy Price on the vehicle that clearly shows the "no-hassle price" for you to take advantage of. The automotive market is very competitive nowadays, so we make sure our cars our priced right every time. If you're worried about getting a good deal on your next new vehicle, rely on Rogers Subaru!
Learn More at Rogers Subaru Today
When you're in the market for a new vehicle and you're wondering what would give you the best deal you'll want to stop by Rogers Subaru. Feel free to peruse our new inventory to choose between the Subaru Impreza, Outback, or Legacy. And, if you're wondering why you should choose Rogers Subaru read on here. Our family-owned dealership aims to make your experience before, during and after your purchase as easy as possible. Just look for the Easy Price!