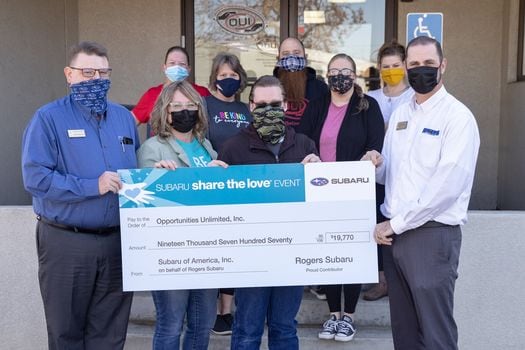 Over the last 13 years, the Subaru Share the Love Event through Subaru of America Inc. and Subaru dealerships throughout the country have committed to donating to charities both locally and nationally. Since then, over $200 million has been donated to national and over 1,440 hometown charities. At Rogers Subaru, we're helping those numbers grow by helping local charities in the Lewiston, ID area and other important charities throughout the United States.
How is Rogers Subaru Contributing to the Share the Love Event?
This year, we've had the pleasure of donating over $19,000 to the Opportunities Unlimited Inc. which is a nonprofit organization that focuses on providing community living and vocational services to people with disabilities around the Lewiston, ID area. With the help of the community at large, we've been fortunate enough to raise these donations for such a valuable and caring organization, and we want to say thanks to each and every one of you in the community.
What Other Organizations Does the Subaru Shar the Love Event Support?
There are thousands of hometown communities that are supported through the Subaru Share the Love Event, and a few larger national organizations. Through the Share the Love Event, more than 74,000 animals have been rescued thanks to the support with the ASPCA. More than 2.700 wishes have been granted with support to the Make-A-Wish Foundation. Over 2.5 million meals are delivered thanks to Meals on Wheels. And over 400 national parks continue to be protected through the National Park Foundation.
Thank You to Everyone Who's Helped Support These Charities and Organizations
From everyone here at Rogers Subaru, we want to thank members of the greater Lewiston community for their continued support during our Subaru Share the Love Event, and we couldn't have done it without you.